This humbling journey that we are on has brought me together with yet another inspirational preemie Mama! This post is a must read as to how two micro-preemie blogging Mama's finally met and the amazing things my new friend is doing!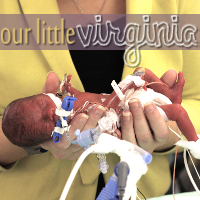 As I navigated my way through Alyssa's blog,
Our Little Virginia
trying to learn more about Virginia and her amazing Mommy I stumbled upon a post titled, "Why We Walk." Those words ring loud and clear to me so of course I read each and every one. As I read through their all too familiar message of why they walk for the March of Dimes I came to the end and there were two links to stories that Alyssa wanted to pass along.
Any preemie Mom knows that a link posted by another preemie Mom is totally worth reading, even if it is 1:00am!
The first was a link to a family in Los Angeles whose twin girls were born at 33 weeks, most of us know that 33 weeks gestation is pretty free and clear of "critical" in the land of prematurity, especially to those of us who gave birth to a micro-preemie. But that is not always the case, especially when the acronym PPHN is involved in the equation. For those non-medical readers PPHN is Persistent Pulmonary Hypertension of the Newborn, in simple terms - 4 letters that no parent ever wants to hear in the same sentence. PPHN is life threatening and in this case took the precious life of sweet Josephine Valentine.
The second link was a YouTube video that I clicked on. When it started to play I almost fell off the couch, it was our
March of Dimes
video that was created for March for Babies 2012. Imagine the love I felt to think that this amazing preemie blogging Mama who I didn't even know was sharing our video! It felt SO amazing!
Hold on, there's more!
This past weekend we attended the 'Spirit of Giving' awards dinner for the March of Dimes. We were receiving an award so I didn't want to sit too close to the front of the room and we carefully picked our seat ;) My husband left to grab a drink so of course I introduced myself to the woman sitting to the left of me - YUP you guessed it! Alyssa! She mentioned she followed my blog, as we exchanged stories I learned that Alyssa is the Mama to a 25 weeker and she blogs too. Of course I asked her the name of her blog and YUP again, I follow her blog! Seriously? Is this really happening? You can read Alyssa's story
here
about her micro-preemie Virginia.
Alyssa is doing some amazing things too. The one year mark of Virginia's home coming from the NICU is this weekend. To celebrate they have decided to donate books and
LilyWraps
to the NICU where Virginia spent the first 124 days of her life!
It's pretty simple to say that this was one of the most amazing moments since I started blogging! Lets just say that I am humbled that The Kent's chose us and our

LilyWraps

to donate for such a miraculous occasion. Thank you from the bottom of our grateful hearts!